Heritage Bedford
Heritage Bedford is a collaboration between Bedford's principal arts, leisure and culture providers. Our aim is to raise awareness of our rich heritage and to help visitors get the most out of the time they spend in the town. To find out more visit www.heritagebedford.com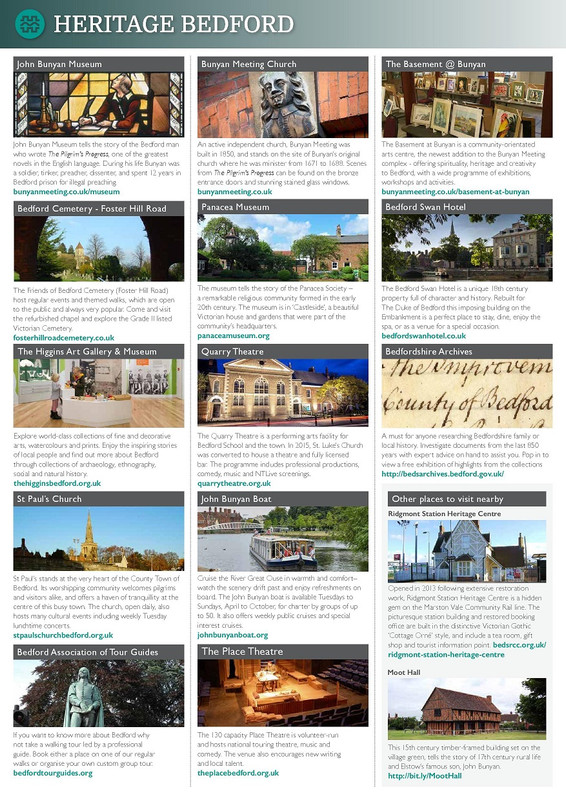 Click on the image to download document
The Higgins Bedford
Click on the image to download document
Bedford Guided Walks
Enjoy a relaxed and entertaining journey back through the ages in the company of a member of Bedford's Association of Tour Guides.
Find out more about the characters and places that are a part of Bedford's 1000 year history. Each season a range of themed walks are available from 'The Jewel in Bedford's Crown', to 'I Never Knew That', and 'The Life and Times of John Bunyan'.
Bunyan's Bedford
Tourists come from across the globe to visit the home of John Bunyan author of The Pilgrim's Progress, for centuries the best-selling book in the world (apart from the King James Bible and more recently Harry Potter).
Now a new group has been formed to promote the places which they can visit - many of them in the town centre.
Photo shows "John Bunyan" - in historical dress courtesy of the John Bunyan Museum and Library in Mill Street
For more information go to bunyansbedford.weebly.com